EUROPE'S NEW REALISM: THE TREATY OF LISBON
Keywords:
EU, Treaty of Lisbon, New Europe, Supranational Character
Abstract
The article by Hans Jürgen Papier discusses the institutional reforms of the Treaty of Lisbon. The author assesses whether the innovations of the Treaty are suited for restoring Union's capacity to act. The author welcomes the changes in the organizational structure of the EU. He considers that the most far-reaching change results from the new architecture of the European Union as one of a unitary legal personality with a supranational character. From the author's point of view, the reinforcement of the subsidiarity principle is the most valuable reform in the Treaty of Lisbon. However, the weakness of its protection is still here. The author wishes the Treaty to give a clearer picture of Europe, of both its inner and outer boundaries.   
References
სულხან-საბა ორბელიანის უნივერსიტეტის მიშელ მუსხელის ინსტიტუ-ტის აკადემიური დირექტორი, ასოცირებული პროფესორი. orcid.org/0000-0003-4586-2731
იხ., Peter-Christian Muller-Graff, 'Die Zukunft des europaischen Verfassungstopos und Primarrechts nach der deutschen Ratsprasi-dentschaft', speech at Forum Constitutionis Europae, 27 June 2007, FCE 6/07, <http://whi-berlin.de/fce/2007.dhtml>, (გვ. 20).
იხ. Ralph Alexander Lorz, 'Kompetenzverteilung im europischen Mehrebenensystem', EuR - Supplement 1-2006, p. 43 (44).
Supra n.1 (p.7)
იხ. დაწვრილებით Peter Altmaier, 'Die Subsidiarittsklage der nationalen Parlamente nach dem Subsidiarititsprotokoll zum EU-Verfassungsvertrag', in Hans-Jorg Derra (ed.), Freihei, Sicherheitund Recht: PestschriftfirJfirgenM eyerpz/m 70. Geburtstag (Baden-Baden, Nomos 2006), p. 301 (318 f.); თუმცა, ასევე იხ., Volkmar Gotz, 'Kompetenzverteilung und Kompetenzkontrolle in der Europischen Union', in Jurgen Schwarze (ed.), Der Vfassungsentwaqf des Europaischen Konvents (Baden-Baden, Nomos 2004), p. 43 (60 f.).
შესაძლებელია ეს იყო კრისტიან კალიეს შეხედულება სუბსიდიარული კონტროლის სისტემის შესახებ ევროკავშირის კონსტიტუციურ ხელ-შეკრულებაში (2004) როგორც ამას ჰანს ჰოფმანი მიუთითებს: Hans Hofmann, 'Europische Subsidiarititskontrolle in Bundestag und Bundesrat - Das 8. Berliner Forum der Deutschen Gesellschaft fur Gesetzgebung (DGG)', ZG (2005), p. 66 (70).
Associate Professor, Academic Director of Michel Mouskhely Institute of Sulkhan-Saba Orbeliani University. orcid.org/0000-0003-4586-2731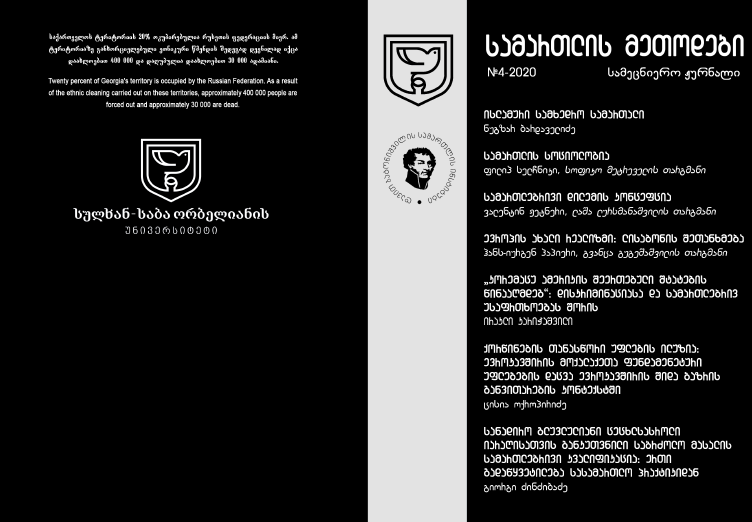 Downloads
How to Cite
Hans Jürgen Papier. (2021). EUROPE'S NEW REALISM: THE TREATY OF LISBON. JOURNAL "LEGAL METHODS&Quot;, 1(4). https://doi.org/10.52340/lm.2022.02.03
License
Copyright (c) 2021 Journal "Dialogi"
This work is licensed under a Creative Commons Attribution-NonCommercial-NoDerivatives 4.0 International License.